Mediation is a means of dispute resolution, which takes the form of a facilitated conversation between the parties to the conflict.
What are the aims of mediation?
The ultimate aim of mediation is to enable the parties to reach an agreement, not only about what the important issues are, but also about what they can do differently in the future, in order to avoid further conflict. Whilst joint problem-solving is the final goal of mediation, this can only be enabled if the parties have first gained greater empathy and understanding of each other. This is because understanding and empathy are the paths to restored trust and healing in the relationship. Collaborative problem-solving is made possible because of this restored trust.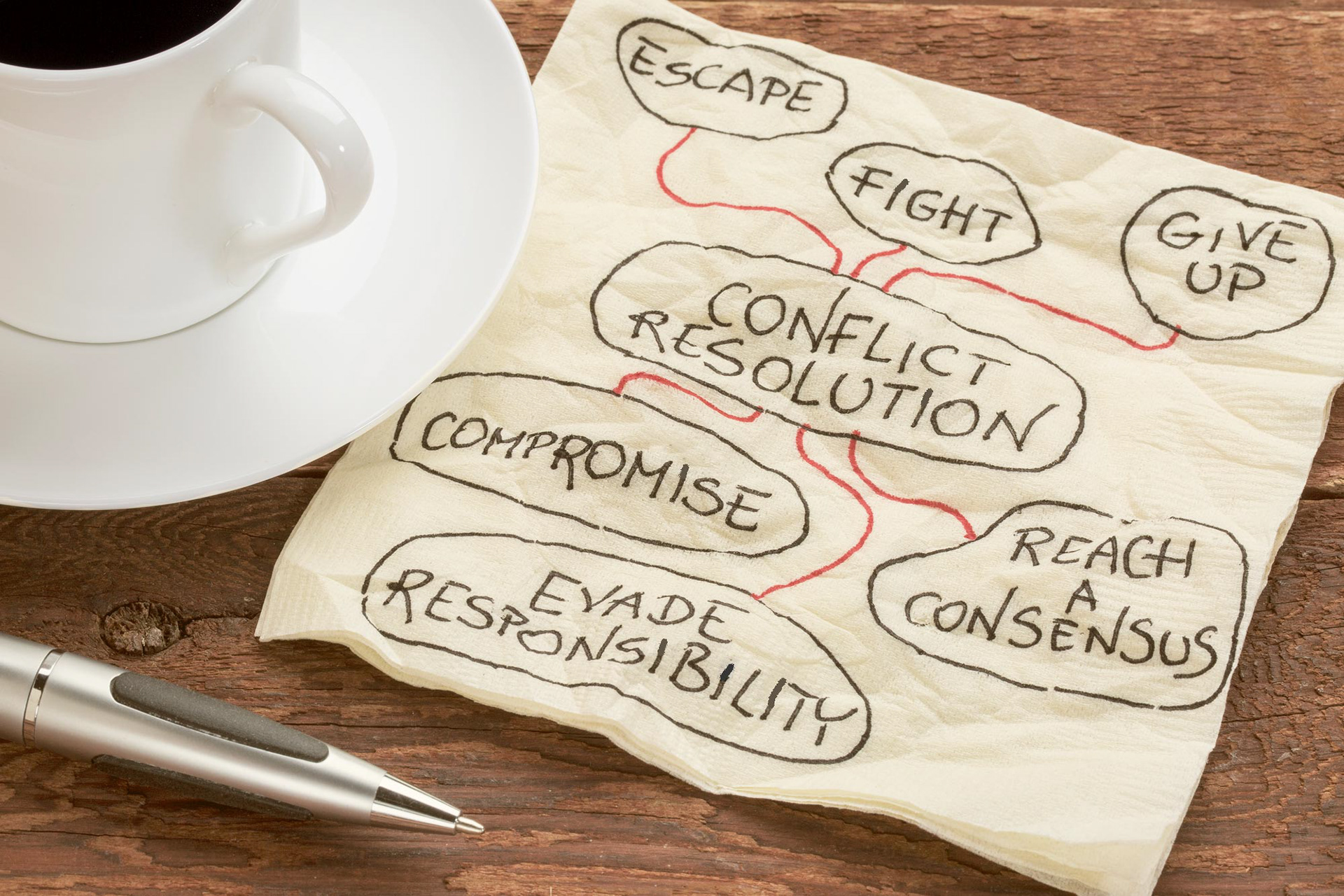 What is the role of the mediator?
The role of the mediator is twofold:  
* to create an environment in which the parties can safely enter into a vulnerable and honest dialogue about the things which have arisen between them
* to guide the parties through that conversation so as to enable collaborative problem-solving
The mediator is there to facilitate the conversation, not to determine how the conflict should be resolved; this can only be done by the parties themselves.
What does the process of mediation involve?
Mediation is usually a two-stage process:
1. Individual meetings between the mediator and the parties, which allow the parties to build a degree of trust in the mediator, and the mediator to get a sense of the issues which are important to the parties
2. A mediation meeting involving all parties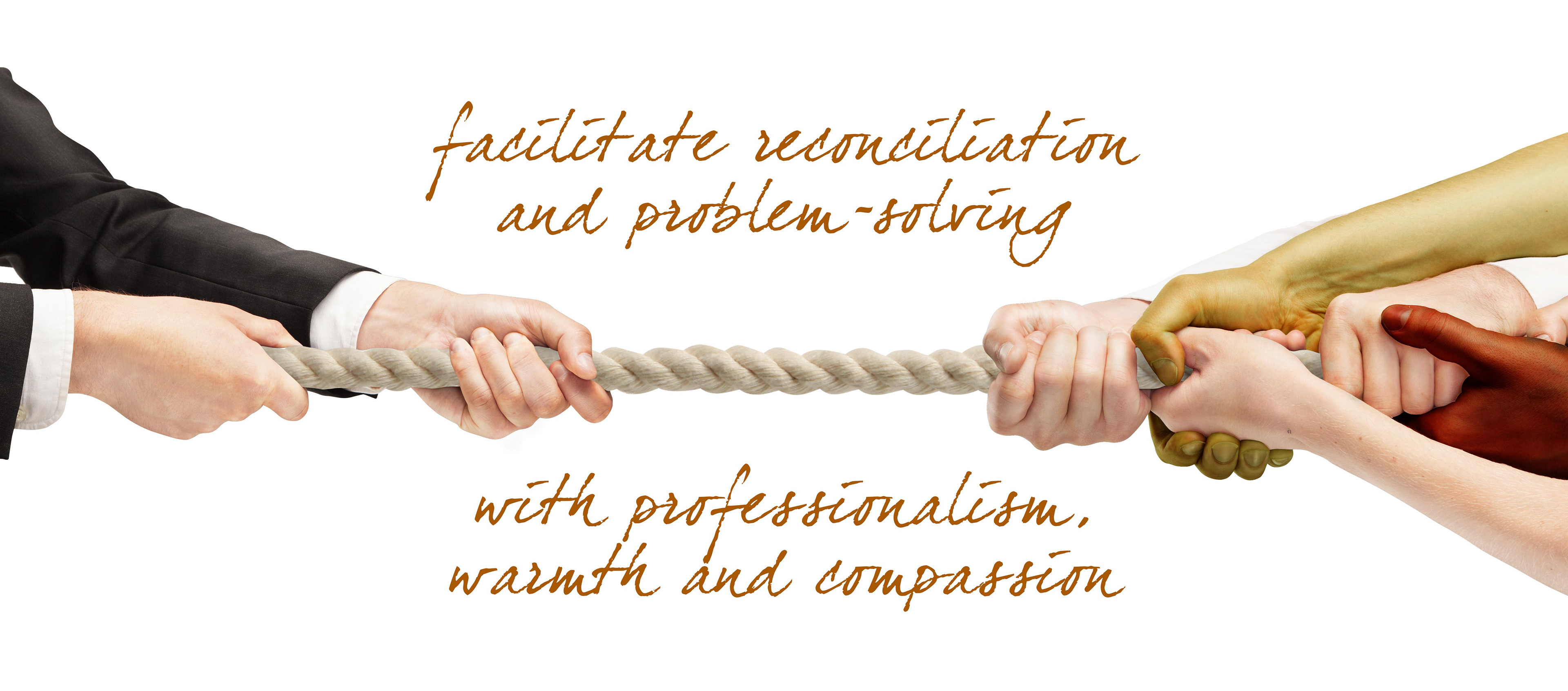 What sort of conflict situations can mediation assist with?
Conflict can arise wherever people relate with each other, because we bring differing opinions, priorities, goals, values and agendas to the relationship. Conflict is particularly likely to occur where factors such as time shortages, high stakes, low energy, and significant expectations make negotiating difference more difficult. As conflict can arise in all sorts of relational contexts, mediation can be useful in wide ranging situations, including conflicts between work colleagues, neighbours, faith communities, social organisations and families.
However, it is important to note that agreements reached through mediation are not legally binding. Mediation often avoids the need to escalate matters into legal proceedings, but it does not prevent legal proceedings where agreement breaks down.
What do I bring to the role of mediator?
My training and experience as both a solicitor and counsellor mean that I bring a unique combination of skills to this role:
* A professional approach, delivered with warmth and compassion
* An analytical and insightful approach to structuring the mediation process and, in particular, the problem-solving phase of the mediation meeting
* The ability to build safety and trust quickly in emotionally charged contexts
* The ability to be a calm, non-anxious, confidence-building presence in the midst of very threatening feelings
* Competence in working in both phases of the process, and an instinctive understanding of when and how to move between a focus on emotional healing and problem solving
* The ability to enable the mediation processes to become not only an opportunity for relational reconciliation and collaborative problem-solving, but also an opportunity to learn new, more affirming, communication skills
Relevant training
* Mediating Interpersonal Conflict - Bridge Builders (College of Mediators' recognised course)
* Training the Trainers – Bridge Builders (a course licensing me to use Bridge Builders' extensive material in delivering conflict workshops)
* Restorative Justice Practitioner Training - Restorative Solutions (Restorative Justice involves the use of mediated circle processes to bring the perpetrator and victim together for dialogue in a criminal justice context; similar circle processes can be effectively used in other contexts)
* Degree in Counselling (1st Class)